Creating a historical female detective.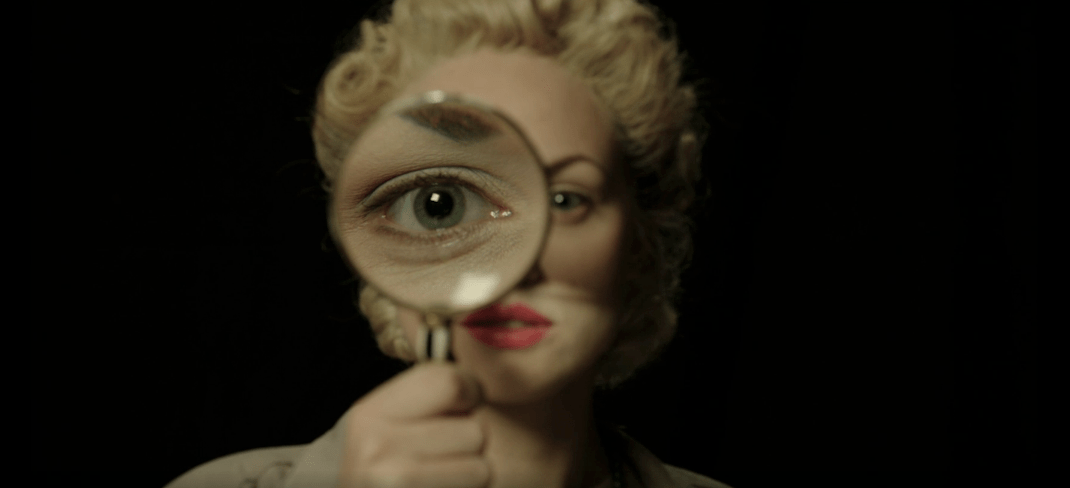 Here is Helen's feature article about creating historical female detectives, first published in Myslexia Magazine.
Intersectional feminism and the 1940s aren't the most likely prose pals, but when I set out to write Elvira Slate Investigations, I knew what I wanted to achieve: the first 1940s noir feminist sleuth.
As women entered the workplace, the war fuelled patriotism and a sense of new independence, albeit at the cost of millions of men facing death. My heroine Elvira Slate's feminist agenda had to be relatable and expose the misogyny and inequalities of what can be a nostalgically sacrosanct era. As a fan of 1940s noir and musicals, this was my chance to flip the sexist, ageist, racist and homophobic 1940s narratives.  Inclusive crime set in excluding times.
Weaving today's sensibilities with historical authenticity is challenging and liberating. I want the reader to feel immersed in a 'plausible enough' 1940s world while relishing a bold feminist revision of women's lives. Elvira inhabits many different Hollywood worlds with diverse, older, and LGBTQ characters – characters with progressive values yet facing yesteryear's oppressions.
Above all, through Elvira I want to reclaim the bad girl and give her a voice. From the mid 1930s, the Motion Picture Production Code dictated 'decency' on screen. In 1940s film noir, bad girls function as walking morality tales – the predatory lesbian, the over-ambitious career girl, the hag, the nag, the psychopathic femme fatale.  These female characters are insidiously inauthentic, products of the Codes male gaze.
Ironically film noir and hardboiled cop movies were vital for historical research – e.g., phone systems, prisoner processing at County Jail and of course vernacular. My love of vintage fashion went in overdrive. Reading newspapers from the actual dates Elvira's investigates yields fascinating details.
Elvira is an anti-hero, with self-serving agendas. At the beginning, she is outcast by a society she does not fit, with a predilection to making bad or corrupt decisions. Her anti-hero credentials as ex-con and probation jumper put her at odds with 1940s mandate for respectable women. Thematically the series explores the causes of female criminal behaviour, rehabilitation of offenders in a corrupt world and mental health (Elvira has what we term CPTSD).
Plotting a ten-book series involves choosing a meaty crime for each book that serves my revisionary goals, and mapping my protagonist's overall arc. In Chipped Pearls: Elvira Slate Investigations Book 2 (2019), Elvira has set up her detective agency but is beset by imposter syndrome. She empathises with her client, a singer in a diverse all-girl jazz band. They are both low status, vulnerable, and threatened with the death penalty. Solving case helps Elvira feel stronger, on the inside.
Like many a detective series, my books can be read as a 'standalone'. This requires skilful exposition so new readers don't feel they are missing out, and recurring characters need to be compellingly introduced in a way that won't bore old readers.
A female historical detective is an outsider, working outside a male-dominated system. Her contemporary author needs to define her protagonist's 'outsider-dom', in terms of race, social and economic status, ability to engage with the patriarchy, and values concerning restorative justice. Both Kerry Greenwald's Phryne Fisher and Frances Brody's Kate Shackleton are 1920s detectives, with very different experiences.
Leading twenty novels, a successful TV series and feature film Miss Fisher and The Crypt of Tears (2020) outlandish Phryne Fisher proves the historical female detective can be big business. A wealthy aristocrat from humble origins, Phryne is glamorous, gutsy, liberated, wealthy, fearless and extremely multi-talented. Greenwald subverts prevailing attitudes through a comic and exuberant heroine who transcends patriarchal limitations yet clearly has benefited from them. Phryne Fisher brings a flamboyant and feminist agenda to her cases, often helping women and the disadvantaged.
Brody's Kate Shackleton comes closer to the genuine Golden Age heroine – a well-brought up English woman, dignified and observant. In Body on The Train (2019) social issues are the setting of the crime; the plight of Yorkshire workers working in the precarious forced rhubarb, mining and weaving industries. Meticulous research and Kate's observant voice conveys a sense of reality throughout. Her awareness of inequality is not going to rock the patriarchal boat.  She has a deep allegiance with men; her loving adopted father is a Chief Superintendent, and her trusted assistant Sykes is also an ex-cop. We learn she was a suffragette, but avoided incarceration. Kate has faith in the legal system; when it fails, she coughs up for a good (male) lawyer to save an innocent man.
This sharply contrasts with social outcast and emotionally damaged Elvira and her deeply-rooted distrust of criminal justice stemming from a childhood in Reform School. In true anti-hero form, she possesses her own moral code, letting some criminals off the hook if it fulfils her notions of justice.
As female detectives in past times, these heroines share feminist tropes which endear them to readers today. All three detectives crack cases with unconventional means afforded by their gender and an awareness of inequalities around them. They are style-loving boss ladies; their teams are their surrogate families. None are married or have their own children. They want to feel free and live and work on their own terms. They retell the past.
Finally, the tone of each book creates interesting female sleuth sub-genres. I call my series 'feminist vintage noir'. Elvira's voice is the most subjective and emotionally raw. True to noir, her life is always at stake.
What self-respecting anti-hero resolves all her problems anyway?