How Education Helped Dr Helen Jacey Found a Feminist Production Company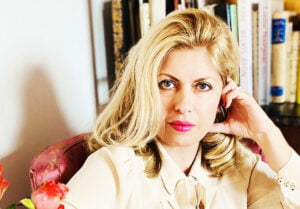 During her undergraduate degree, Helen Jacey didn't know she wanted to be a writer. She did, however, know that she was passionate about the arts, literature and film. 
Little did she know that she would go on to become a professional screenwriter, author, lecturer and the founder of Shedunnit Productions: a production company focusing on creating female focused, intersectional stories.
Dr Jacey's first book, The Woman in the Story, was published in 2010 and has since become an international handbook for screenwriters creating female characters. 
She later wrote her own series of novels. The Elvira Slate Investigations are a feminist-noir take on the traditional 1940s crime thrillers, following the story of a 20-something ex-con female detective.
All of this was made possible by Dr Jacey's extensive education. Her undergraduate degree in Greek and English Literature at Manchester University fueled her interest in the arts. Years later, her MA in Screenwriting from the London Institute and her doctorate from the University of Arts London gave her the skills and drive to start her own business.
Read the full article here