We are the City: Inspirational Women series: Helen Jacey
Dr Helen Jacey is a professional screenwriter, lecturer, author and founder & CEO of Shedunnit Productions Ltd.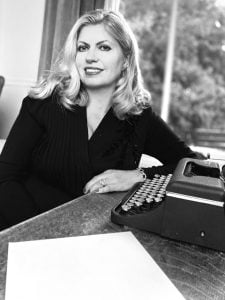 Helen started her company in 2018 to provide opportunities across media for intersectional feminist work. Helen has an MA in Screenwriting from the London Institute and a doctorate from the University of Arts London. An expert in female characterisation, her first book The Woman in the Story was published in 2010 and has since become renowned as the international handbook for screenwriters creating female characters.
Shedunnit Productions has a transmedia focus, supporting novels, film and TV, and music. Helen has been championing diversity in the film and TV industry for decades and has seen a sea change in the last ten years in terms of awareness of discriminatory barriers and increased efforts to remove obstacles for underrepresented voices.
Helen is the author of three novels that overturn the traditional crime genre and introduce a new form: feminist noir. Inspired by 1940s crime thrillers, Helen's Elvira Slate Investigations series tells the disallowed histories of many 1940s women through her fiction.
Helen has worked for 20 years as a professional screenwriter with her work has been produced on TV and film. She lectures on female characterisation and is a judge at Women over 50 Film Festival.
Tell us a bit about yourself, background and your current role
I am a feminist author, screenwriter and story mentor for the international film industry, known for my expertise on screenwriting and gender. I'm also the founder of Shedunnit Productions which produces feminist content, including my 1940s feminist noir series Elvira Slate Investigations. As a passionate vintage fashion fan and lover of Old Hollywood, I got tired of all the sexist tropes of the genre which motivated me to create a character that contemporary women can relate to.  I hold a PhD in Screenwriting and have taught part time at Bournemouth University where I launched the MA in Creative Writing and Publishing.  I grew up in London and now live in East Sussex.